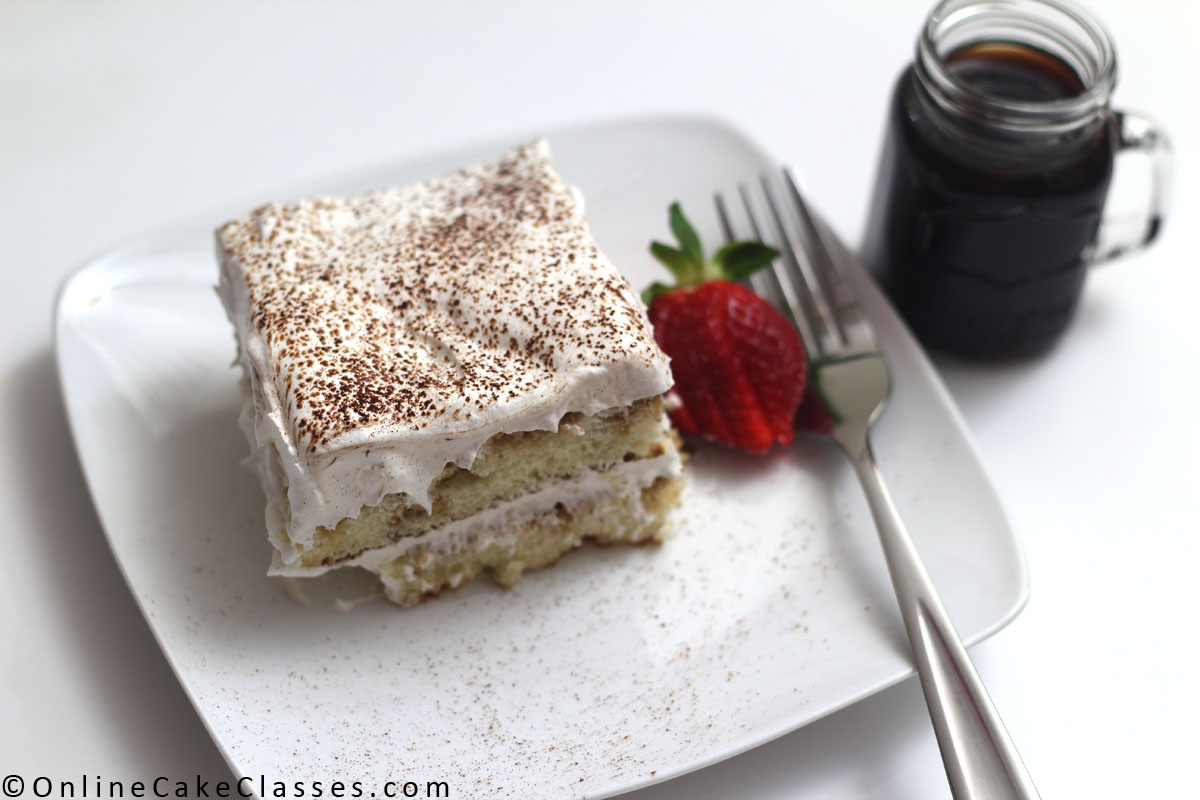 Video instructions:

Ingredients:
Cake:
Duncan Hines Classic White Cake Mix
3 Large Eggs
1/3 Cup Vegetable Oil
1 Cup Water
Baker's Joy
16 ounces Original Whipped Topping
2 Tablespoon Hershey's Cocoa Powder
Espresso Coffee:
1 Tablespoon Kahlua Coffee
1 Tablespoon Nescafe Dark Roast Coffee
1 Cup Water
1/8th cup Sugar
Tools:
9*13 inches Cake Pan
Bowl
Whip
Spatula
Cutting Board
Bread Knife
Strainer (big and small)
Saucepan
Spoons
Coffee Filter
Measuring cups and spoons
Glass Rectangular Bowl
Instructions:
Step 1: Preheat oven at 350 degree F. Prepare cake pan 9*13 inches with Baker's Joy.  
Step 2: In a bowl place Duncan Hines Cake Mix add eggs, vegetable oil and water. Mix it with a whip until all the lumps are gone.
Step 3: Pour batter in the cake pan and bake for about 23-28 minutes until done. Remove the cake from oven and cool the cake completely before frosting.
Step 4: In a small sauce pan heat water and add Kahlua and Nescafe Coffee. Let is simmer on medium for 10 minutes.
Step 5: Use a strainer and place coffee filter on top to strain the coffee. Add sugar while the espresso is hot and stir. Let the espresso cool completely.
Step 6: On a chopping board cut the four edges of the cake using a bread knife. Layer the cake using bread knife.
Step 7: Place the top layer of the cake gently in the glass bowl. Use a spoon to add espresso coffee on top of the cake.
Step 8: Add whipped topping and gently spread it on the cake. Use a small strainer sprinkle Hershey's Cocoa powder on top of the cake.
Step 9: Place the second layer of cake on top and gently press it into place. Pour espresso coffee with spoon and add the remaining whipped topping, spread it with a spatula.
Step 10: Sprinkle Hershey's Cocoa powder on top and refrigerator for 2 hours.
Step 11: Serve this easy and quick Tiramisu Cake dessert on a plate with fresh strawberry and fresh coffee.
Tiramisu Cake recipe is a fun, easy, simple, quick and deliciously light for a dessert. Impress your guest with homemade tiramisu cake recipe which is light and airy perfect for any occasion. I love this recipe as it is alcohol-free and great for coffee lover like me. Try this recipe as the taste of Kahlua and Nescafe creates a unique flavor coffee paradise in your mouth for all the coffee lovers around the World!!!