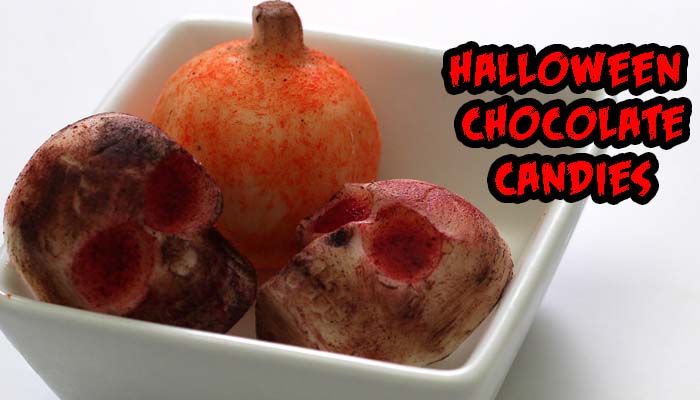 Skulls and Pumpkins: 10 each
Ingredients:
10 ounces White Chocolate
1 Icing bag
Ice Cube Trays: Skulls and Pumpkins
Pearl Dust: Red, Orange and Brown
3 Brushes
Instructions:
In a microwavable bowl place white chocolate and melt them at intervals of 30 seconds each. Stir until chocolate is evenly melted.
Fill the Icing bag with melted chocolate and twist the bag until tight.
Cut the tip off and fill the ice cube trays of skulls and pumpkins.
Tap the trays gently on the counter to remove any air bubbles.
Place the trays in the freezer overnight.
Remove the trays from the freezer and gently remove the skulls and pumpkins.
Place the skulls and pumpkins on a wax paper line tray.
Remove some pearl dust of red, orange and brown on a plate/ paint tray.
Brush dry brown pearl dust on the skull and color the eyes red.
Brush dry orange pearl dust for the pumpkins and color the stems brown.
Helpful Hints:
Apply dry pearl dust on white chocolate they tend to show the color real well and looks just enough scary for little kids.
Place the two halves of the pumpkin to make one whole pumpkin or leave them as it is.
Video