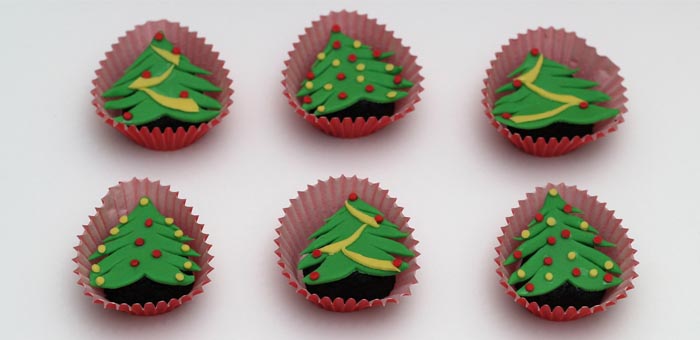 Christmas Cake Bites
Ingredients:
Fondant (green, red and yellow)
Chocolate cake bites (heart shaped)
Water
Tools:
Tip # 2
Rolling pin
Heart shape cutter, medium
Paint brush
Spatula
Dusting Pouch
Wilton rolling wheel tool
Wilton Fondant and Gum Paste Cut N Spin Board
Mini cupcake liner
Instructions:
Step 1: Roll green fondant 1/8th inch thick on the board and cut two medium heart cut-outs.
Step 2: Smooth the heart cut-outs from sides with index fingers to shape like a cone. Dust the cut-outs with dusting pouch.
Step 3: Use the rolling wheel tool to make small cuts on both sides of the cone shape to resemble Christmas tree.
Step 4: Pinch the edges with your index finger and thumb. Slightly curl the edges for pointed look on both sides of the heart cut-outs.
Step 5: Roll yellow and red fondant 1/8th inch thick with a rolling pin and dust it with dusting pouch.
Step 6: Use tip #2 to make small cut-outs of red and yellow fondant, using the narrow end of the tip. Use a dry brush to remove the small cut-outs from the tip.
Step 7: Cut three long yellow triangle shaped ribbon cut-outs using the rolling wheel tool.
Step 8: Brush the Christmas tree cut-outs with water (as shown in video) and attach the yellow ribbons accordingly. Cut off the excess once in place.
Step 9: Brush the top of the tree and end of each ribbon with water, gently stick the small red ornaments made with tip #2.
Step 10: On the second Christmas tree brush all curl edges and top with water and stick alternate colors of red and yellow ornaments. Add more ornaments on the tree to resemble Christmas tree.
Step 11: Make more of the Christmas trees and brush the back center with water to attach them to heart shaped chocolate cake bites.
Step 12: Place each decorated cake bites on mini cupcake liner before serving them on a plate.
Wonderful easy to make Christmas Cake Bites for any party or presenting as Christmas presents to your friends, family, co-workers, doctor or school teachers.